High Intensity Laser Therapy for Gold Coast Patients
BePainFee provide high intensity laser therapy for patients living and working in the Gold Coast and surrounding areas including Southport. Learn more about how laser therapy may help you manage your conditions.
What is High Intensity Laser Therapy?
High-intensity laser therapy is the application of red, infrared and far infrared laser light to the areas of the body that have been injured or damaged. The purpose of high-intensity laser therapy is to reduce pain and enhance healing by producing beneficial photo-biomodulation interactions at a cellular level. The biological effects of laser were discovered by Hungarian physician and surgeon Endre Mester in 1967. Since then the therapeutic use of laser therapy, approved by the FDA, has been increased significantly producing positive results for patients suffering from pain.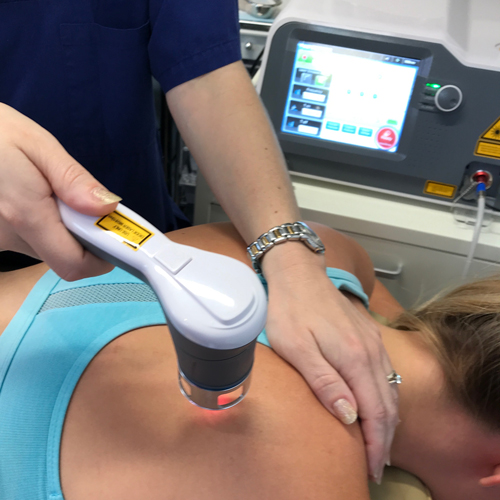 How Does High Intensity Laser Therapy Work?
Thousands of research studies have helped us understand that when the cell is exposed to light of certain wavelengths, most of the biological processes occur at the cellular and DNA level.
Be Pain Free's laser therapy is non-surgical and painless and it penetrates through the skin and deep into the cells. This triggers biochemical reactions that increase cellular energy, increase oxygen levels and the re-growth of nerves and other damaged tissues.
Due to the strong anti-inflammatory and anti-inflammatory effect on cell tissue, laser therapy has the potential to help where your body's cells are not working to their optimum level. This means it can help repair tendons, ligaments and muscles faster and more efficiently.
What's the difference between cold and hot laser therapy?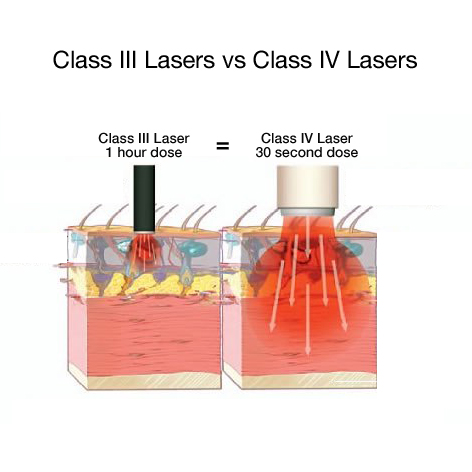 Hot laser therapy, known as 'High Intensity Laser Therapy' (HILT) or class IV laser therapy, uses more power than cold laser and feels warm, soothing and relaxing on the skin. Class IV hot lasers are normally 100-400x more powerful than cold lasers.
Cold lasers known as 'Low Level Laser Therapy" (LLLT) or Class III lasers, are commonly used in Australia and use only low level of power. A patient won't feel any heat on the skin.
Although the penetration depth for both hot and cold lasers is the same the dose of light reduces drastically the deeper it goes. At 4cm only 1-2% of the light reaches the tissues. For this reason most injuries require a significant amount of light to penetrate deep enough to be therapeutic.
A class IV hot laser can deliver a high dose in minutes, whereas a class III laser would take many hours to reach the same dosage. So, the main difference apart from the temperature on the skin is that class IV hot laser therapy delivers the therapeutic dose much faster, providing quicker pain relief and healing.
What can I expect from class IV hot laser therapy?
Most patients seek laser therapy because they are in pain. It may be from osteoarthritis, frozen shoulder, tennis elbow or many other musculoskeletal conditions. About one third of patients experience a reduction in pain and/or increase in mobility after just one treatment.
The maximum biological effect from the hot laser occurs shortly after treatment and then diminishes over time. Patients may experience significant pain reduction and improved mobility for a few days then the pain gradually starts to return. This is the best time to have the next treatment.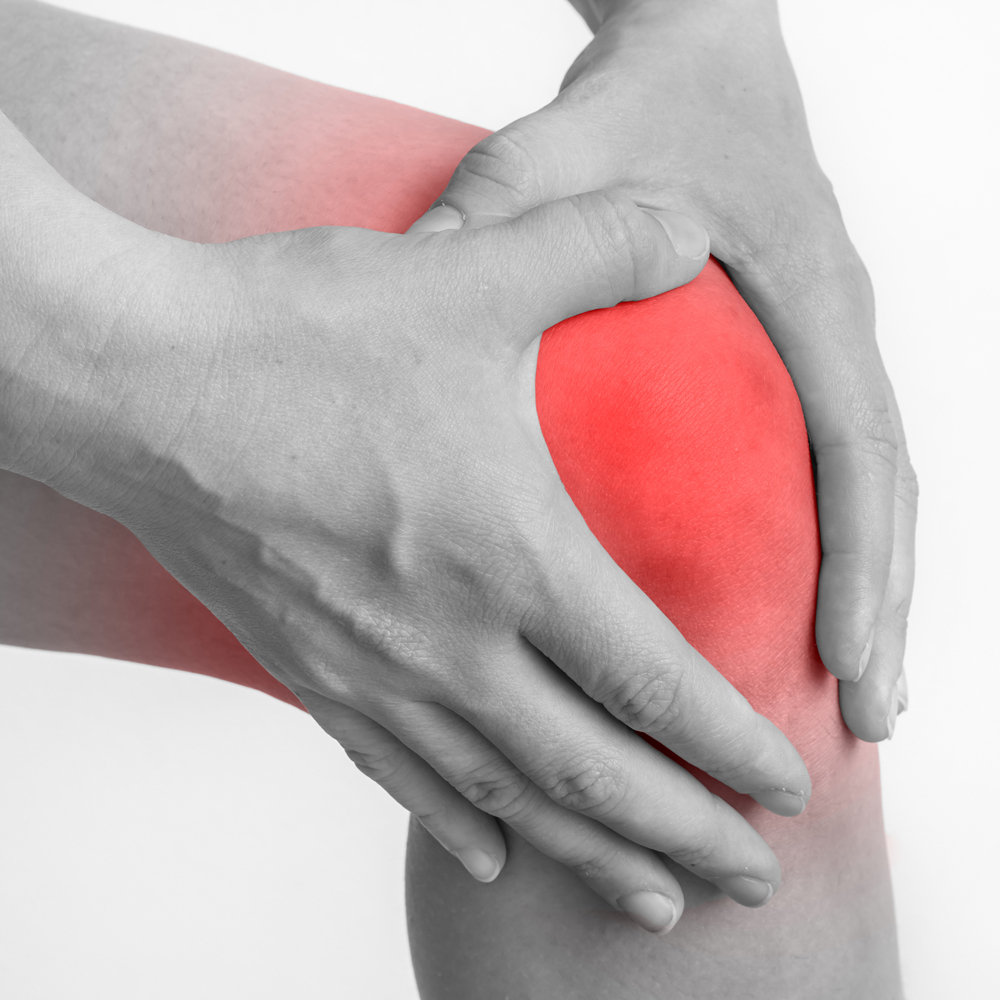 Class IV hot laser therapy for pain
Any injury or degenerative condition that the body can heal, can potentially be enhanced with laser therapy. This is achieved by increasing energy production within the cells mitochondria. Energised cells work together more efficiently to increase the rate of healing.
Class IV hot laser therapy (high intensity laser therapy) can treat a variety of conditions, such as:
Osteoarthritis of the knee, hip and ankle

Rheumatoid arthritis

Shoulder impingement syndromes

Hip or shoulder bursitis

Low back disc degeneration

Disc herniation

Sciatica

Tendonitis

Tennis elbow

Plantar fasciitis
The benefits of high intensity laser therapy for treating stroke, Alzheimer's disease, Parkinson's disease and traumatic brain injury has been supported by research over the past 7 years; however, further research studies are required to confirm these benefits.
How many treatments will you need?
Many patients notice an improvement from the first visit. The amount and frequency of treatments depends on the condition you need treated. The effects of the laser therapy are cumulative, meaning that each treatment builds on the one before.
Some acute conditions such as a long-term arthritic knee may take 6-15 treatments, while as a shoulder rotator cuff tear normally takes between 6-8 treatments. Most patients suffering from plantar fasciitis have experienced pain relief within 5 treatments. Each person's rate of healing is different; however, this gives you an estimated guideline.
What are the side effects?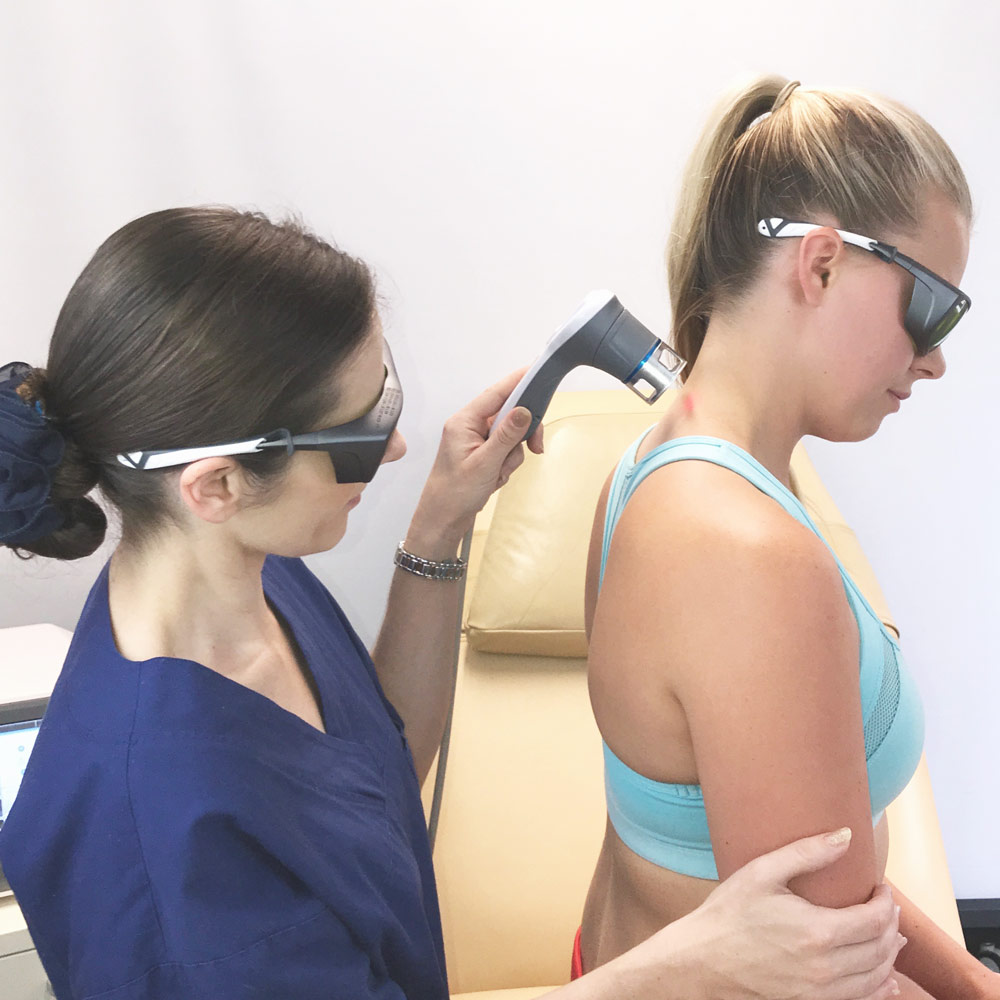 Laser light can be damaging to your eyes, if you look directly at the beam. For this reason, both patient, practitioner and any other person in the treatment room must wear specific eye protection glasses or goggles whilst the laser is in operation.
Once the eyes are protected the side effects of a high intensity laser therapy treatment are minimal and temporary.
For the body's healing mechanism to 'kick in', some patients experience a mild short-term inflammation. This is a necessary process and supports tissue healing. Most discomfort passes in 24 hours and usually only occurs during the first couple of treatments.
Patients experience a warm sensation on their skin and over the injury site and the medical practitioner moves the laser constantly to prevent any discomfort.
Book an appointment for hot laser therapy in the Gold Coast today
If you're interested in receiving hot laser therapy for your chronic pain, joint pain or any other conditions, please contact our reception team to arrange a consultation. Our clinic is located in Benowa, making us conveniently located for patients who live and work in the Gold Coast, and only a short drive away for those in Southport and surrounds. You can reach us by calling (07) 5597 5711.